Weed Suppressant Mat (WSM) is a wood mat comprised of recycled wood from northern Minnesota. Our mat is a one-step product for weed suppression and mulching protection.
It is a strong, flexible mat that reduces rain impact and slowly releases moisture into the soil while inhibiting growth of weedy plants underneath. Because of its ability to suppress growth, our WSM is not intended for use on seeding projects, instead we recommend our biodegradable erosion control straw blanket for use on seeding projects.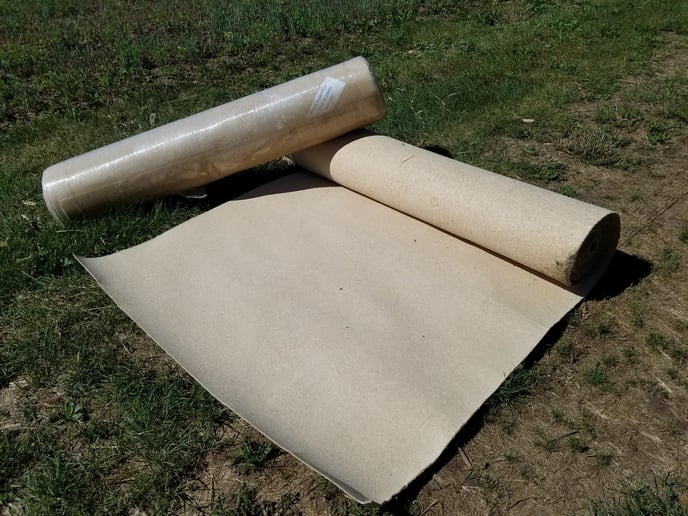 What is it used for?
Consider adding a roll of WSM on projects with environmentally sensitive areas like a slope or a shoreline planting project. Or, simply where you would like to start a planting project with minimal site preparation. WSM can be laid down directly over short-mowed turf grass to instantly transform the area into a new native planting or even over an existing weedy garden bed where you want to start over with MNL's native plant plugs. In a scenario where you put the WSM over existing weeds, we recommend waiting 2-4 weeks to plant into the mat if you are able. This will give the plants underneath a chance to be suppressed and die back prior to cutting holes and digging in new plants. Using WSM as part of your planting project is an environmentally friendly site preparation method, reducing or eliminating the use of herbicides to battle invasive weeds.
How to get started?
MNL will ship our rolls of WSM right to your door. Each roll comes with the appropriate number of staples for proper anchoring of the mat. Start by stapling down the outer edges of the mat, placing a staple about every three feet. Then, fill in the inside area with the remaining staples. To add plants: score an x about twice the size of the plant you're about to plant into the mat, fold the flaps under, and start digging! A box knife or razor works well for cutting into the mat. Order here: https://mnlcorp.com/product/weed-suppressant-mat/
What's next?
Nothing! The Weed Suppressant Mat will block weedy growth for about 3 growing seasons (depending on site conditions). During that time, you can leave the mat exposed, or cover with a light layer of wood chips or your preferred covering. As the mat breaks down, your native plant plugs will mature and eventually spread into the areas where the mat had previously been.