Vegetation management
No ecosystem too big or too small.
---
Our team manages various ecosystems native to the Midwest from establishment to long-term growth. We have extensive experience with invasive & noxious weed control, rain garden maintenance, enhancement plantings, buckthorn removal, increasing biodiversity and integrated pest management (IPM).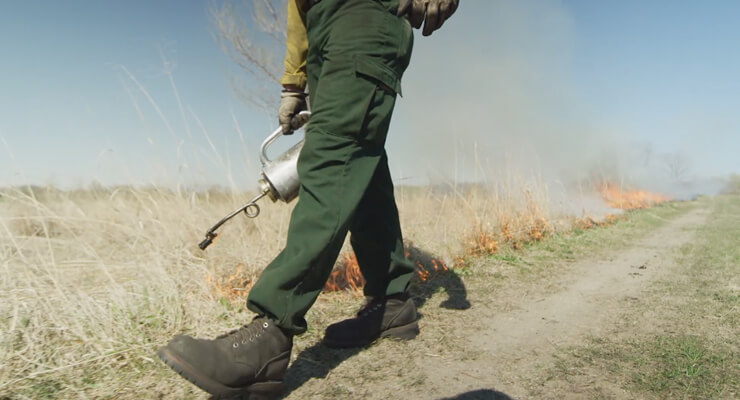 Red rock Fire
Healing the Earth with fire.
Established in 1996, the Red Rock Fire team utilizes their experience and expertise to provide prescribed burn and wildfire suppression services with precision and safety. Healthy ecosystems need periodic and controlled fires.
Conservation Grazing Program
The MNL Grazing Division manages restored habitats and enhances native ecosystems previously abundant throughout the Midwest. Managing native plant communities utilizing our coordinated grazing events replicates the prairie management conducted by North American ruminants.
Wetland Services
MNL specializes in wetland mitigation and bank work. Areas of expertise include: mowing and spot cutting, prescribed burning, vegetation surveys, mitigation monitoring, maintenance and reporting.
Prairies
Prairies are one of our playgrounds. We have everything it takes to implement selective herbicide applications, mowing and spot cutting of varied size and scope, prescribed burnings and vegetation surveys.
Woodlands
Another important part of MNL, our woodland services are focused around removal of invasive woody species and include: forestry mowing, tree shearing, tree and brush hand cutting, basal bark treatment, stump treatment, foliar spraying, prescribed burning and vegetation surveys.
Process of Land Management Projects
The MNL Vegetation Management team will connect with each of our partners to review and evaluate their site and create a management plan. Utilizing the breadth of our experience and equipment, the VM Team ensures every detail is executed with one intent – heal the earth.
Professional Services
---
MNL provides a variety of service options including ecological consultation, environmental and ecological studies, permitting and compliance, wetland delineation, vegetation and wildlife management, and water quality services.
Construction Services
---
Backed with a full fleet of equipment, MNL's team provides a wide range of ecological restoration services. We are experts in site preparation, seed and plant installation, shoreline restoration, erosion control, grading, rain garden and forestry control.