Ecological Restoration
We exist to heal the earth.
MNL is a full-service ecological restoration company. We provide decades of experience, knowledge, industry leadership and a variety of services. Our services range from backyard native seeding to large-scale restoration, bioengineering and everything in between.
Comprehensive solutions
Tackling ecological restoration.
---
MNL offers a complete portfolio of large scale services. We have the equipment and expertise to tackle purpose-driven projects that positively impact a countryside or cityscape.
Backyard solutions
One yard at a time.
---
With MNL's helpful resources and a wide variety of native seed and plant options, our landowner partners are equipped to create remarkable improvements to the environment.
Products Shop
Explore all available plants and products to match the size and scope of your project.
Wholesale
Greenhouse and Production Products
---
We provide seeds and plants for large scale projects and can custom grow to meet your needs. Options range from 10,000 native plant plugs to 1,000 acres of a native seed mix.
product
My Pocket Prairie
---
When you plant a pocket prairie you're putting local origin native plants in the ground, where they belong. And when you do that, you're doing your part to heal the earth. Plant something good today. Available for purchase October 1 through January 1.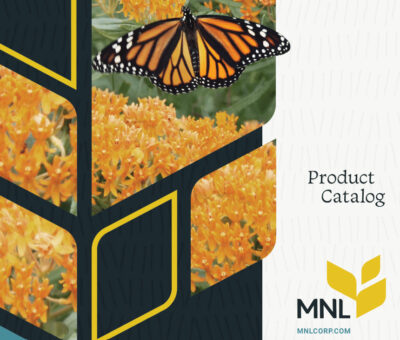 MNL Product Catalog
Everything you need to join us in healing the earth through the use of native seed and plants! Browse our catalog for products and ideas for all sized projects! We are happy to help whether you're a backyard gardener or an industry professional
OUR SERVICES
Bringing our world to life.
Sometimes we awaken the soil. Sometimes we cover it with flames. Our objective is to always grow something new. The path to peaceful prairies, restored shorelines and expansive vistas is paved with hard work, fire, water and forward thinking. MNL will lead the land back to life by transforming it one piece at a time.
10 20 30

Goal

10 million acres positively impacted by 2030. With eyes and energy focused on this goal, MNL welcomes individuals and organizations who share our desire to heal the earth. This goal is achievable, and with each milestone completed, MNL and our partners will be creating measurable and remarkable improvements to air and water quality, soil health, energy resources, and biodiversity in our world.